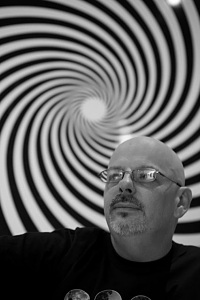 Adrian Holmes - Drums & Percussion
First Band Seen Live:
Nazareth - Birmingham 1973
Last Band Seen Live:
Aviv Geffen - London 2008 (working)
First Record Bought:
Sandy Shaw - Puppet On A String (single)
ELP - Brain Salad Surgery (album)
Last Record Bought:
Kate Rusby - Awkward Annie / The Imagined Village
Last Book Read:
Nick Hornby - High Fidelity
Last Film Watched:
Harry Potter & The Order Of The Phoenix (DVD)
Desert Island Luxury:
A huge jar of Colemanís English Mustard
Favourite 3 Bands (All Time):
The Beatles, Pink Floyd, Genesis
Favourite 3 Bands (Currently):
Porcupine Tree, Rush, The Imagined Village
Favourite Marillion Track:
This Is The 21st Century
Favourite Fish Track:
Plague Of Ghosts
Biggest Musical Influences:
Bill Bruford, Neil Peart, Ringo Starr, John Bonham, Stewart Copeland, Andy Gangadeen and many, many others
Most Memorable Experience:
Meeting my partner Andrea for the first time / Watching a space shuttle launch in 1997 in Florida / Playing with Marillion at their 2002 convention
Equipment:
Premier drums, Zildjian cymbals, Vic Firth sticks, Aquarian heads.
Ade Holmes has been playing drums for a long time.
His previous bands include (edited highlights) The British, Tin Tin Tin, Strontium Dog, Ladykiller, Back To The Factory, ESP, Texas Flood, Badge, The Herbz, The Kate Pereira Band and The Frozen Nile. He has failed auditions for both Diamond Head and AC/DC.
These days, Ade splits his time between working as an IT Consultant and being out on the road working as tour manager, technician and merchandise manager for artists such as Porcupine Tree, The H Band, Blackfield, Aviv Geffen, London Elektricity, The Bays, etc.
It has been said that Adrian changes his drumkit more frequently than he changes his underwear. He is currently beating the bejesus out of a beautiful prototype Premier Classic kit and still wearing black Marks & Spencer boxer shorts ... but not the same ones! He has been beating the bejesus out of Zildjian cymbals for almost as long as he has been playing drums.
Adrian is a member of Mensa and has an IQ of 156 (a fact that his band mates still refuse to believe), but is strangely still the subject of many Drummer Jokes.
Adrian describes playing in Skyline Drifters as the most fun you can have with only a minimal chance of being arrested. When questioned as to why the band perform so infrequently, he replied "Dr. Woodward has calculated that if the five of us are together in one place for too long it would cause a rift in the time-space continuum and the foundations of popular music would collapse. That, plus the fact that our livers can't withstand the punishment."