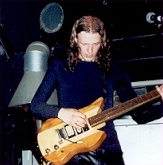 Dave Woodward - Guitar & Emergency Vocals
First Band Seen Live:
The Brian May Band - Birmingham NEC 1993
Last Band Seen Live:
Arena, Sheffield Boardwalk, 2007.
Spent most of the time gazing slack-jawed at John Mitchell's unbelievably talented guitar playing.
First Record Bought:
Billy Ocean - Get Outta My Dreams (single)
Aswad - Distant Thunder (album)
Last Record Bought:
Marillion - Somewhere Else
Favourite 3 Bands (All Time):
Marillion, Pink Floyd, Genesis
Currently listening to:
Live recordings of Kraftwerk and Mike Oldfield
Biggest Musical Influences:
Mark Knopfler, David Gilmour, Steve Hogarth
Most Memorable Experience:
Birth of my daughter. Five hours of keeping a poker face, trying not to look bored/terrified. At the end of it, a tiny purple human was dropped into my arms. The next 3 hours passed in 17.5 seconds.
Dave got his first electric guitar for his tenth birthday and set about learning to play it. After a few years he got quite good and bought a second guitar to see if that was any different. He was in a succession of school bands; 'Blue Depths', 'The Power and the Glory', 'White Lightning' and 'Jester's Tear' but these failed to be much good. This was not Dave's fault. Meantime, Dave's Dad had spent two years making an electric guitar that continues to be Dave's axe of choice. Work has been completed on a second one. No animals were harmed during the process although the ozone layer was irreversibly damaged by all of the aerosols used.
In 1998, he joined London-based Genesis tribute band 'Invisible Touch' which was superb. They gigged regularly for several years, with the highlight being the night that former Genesis guitarist Steve Hackett turned up to see them play. As a result, Dave has developed phenomenal sphincter control that continues to amaze doctors and nurses alike.
In 2001, Dave was approached by Ade to join the Skyline Drifters and was delighted to accept, since he had spent years playing Marillion and Fish songs in his bedroom. The most exciting part was meeting Tony Turrell whom Dave did not see on Fish's 'Raingods' tour as he had an exam. The worst part was the crippling hangover experienced on the morning of his first gig, relieved only by some very strong prescription painkillers. Dave still has a recording of Tony's first phone message to him. His wife Julia says this is sad.
Dave Woodward was a research scientist until he decided to dip his toe into the unlikely world of Having A Proper Job. This was necessitated by the birth of his son and the extortionate price of childrens nappies. And shoes. And, unbelievably, food. This also necessitated a period of semi-retirement from playing music which is currently in its 3rd year. He has twice been given the night off from doing the bath, reading the book (current favourite: 'Timothy and the Strong Pyjamas') and tucking the kids in to go and play the guitar for popular Phil Collins tribute band 'No Jacket Required' who are lovely. He is very much looking forward to playing with the Skyline Drifters again as he is having trouble remembering what they all look like.
He still has a cat called Moog and together they have perfected a recipe for homemade nettle wine.