The Company Gloster presents: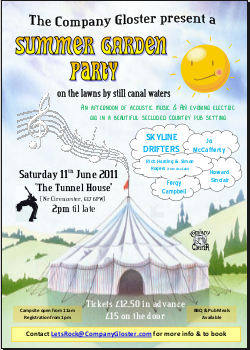 Skyline Drifters
Jo McCafferty
Rich Harding & Simon Rogers (from Also Eden)
Howard Sinclair
Fergie Campbell
Saturday June 11th, 2011
The Tunnel House, nr. Cirencester, GL7 6PW
2pm 'til Late
Entry: 12.50 Pounds (in advance); 15 Pounds (on the door)
Camping available on site.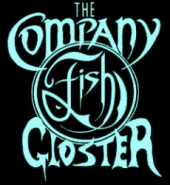 Saturday 15th March, 2008, Longlevens, Gloucester
Misplaced Skyline - Marillion Tribute Bands Of Europe Unite!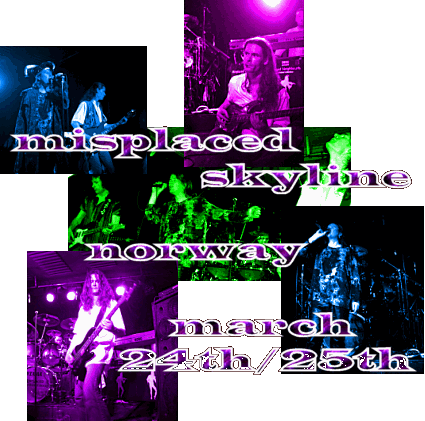 Friday 24th March - Gamla, Oslo
Saturday 25th March - Tribute, Sandnes
In March members of Marillion tribute bands Misplaced Neighbourhood (NOR) and Skyline Drifters (UK) are joining forces for two very special concerts in Norway.
The line-up will comprise two Drifters - Rich on vox and Ade on drums - and three Neighbours: Visitor on Guitar, Jany on Keys and Ludo on Bass. As well as their tribute band efforts, Ade, Visitor and Ludo have also all played with Marillion in Swap the Band (Ade on Between You and Me in 2002 and Visitor and Ludo on Uninvited Guest last year).
Expect a set of classic Marillion tracks from both eras.
(And if you'd like to know how it went when Rich sang with the Neighbours last year, click here.)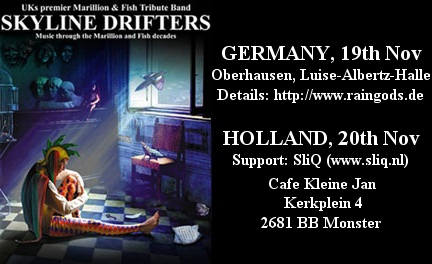 Germany, 19th Nov 2004, Luise-Albertz-Halle, Oberhausen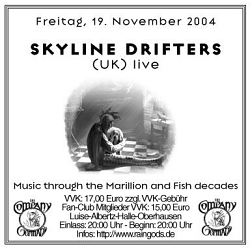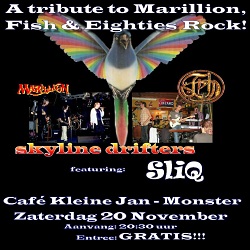 Holland, 20th Nov 2004, Cafe Kleine Jan, Monster
Support: SliQ - A Tribute to 80s Rock

Previous to our European adventures, Skyline Drifters last full public outing was, believe it or not, a Xmas Bash for Marillion / Fish fans and other friends, Dec 8th, 2002 at The Rock Cafe, Stourbridge.
Support was from the most excellent Jo McCafferty, fresh from supporting the h band on their recent tour. Jo and Rich went on to be credited by The Guardian as members of Marillion as part of the feature on the Marillion Convention 2003! If the cap fits...
Since then we've played a handful of private gigs for Marillion / Fish fans and their friends.