It almost never happened. Having been asked by their friend, Morten, to provide the entertainment for his fortieth birthday party, Ludo and Orjan from Misplaced Neighbourhood had been searching for me all weekend at the Marillion Convention in Minehead. I was literally pushing open the door to the auditorium, off for a much-needed early night when they finally found me and asked, "Would you come and stand in for our singer at a couple of gigs?" Well, the ensuing setlist comparison was immaterial to me - anyone who has any clue whatsoever as to who I am could have told you the answer was going to be "Yes" :)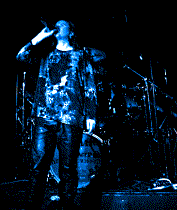 With heaven only knows how many other things going on in the intervening period, I only started listening to the tracks I hadn't previously sung live two days before I flew to Norway (I didn't even bother with Misplaced Childhood - I'd done that arm in arm with Paul Stagg and Mark Donald at Fish's Bristol gig) but I had a very good feeling about everything.
Ludo met me from the station and we wandered back to his apartment, stopping by the venue at Gamla Christiana and various local parks to flypost and liberally indulging our shared interest in jaywalking :) Although it was my first visit to Norway, I felt immediately at home in the capital, a city with much in common with my beloved Bristol, and this continued back at Ludo's, where we settled down to watch a DVD of the Neighbours' previous outing at Gamla and discuss the relative merits of his wife Deia's selection of jester hats! The Norwegian audience were obviously going to be fun :)
Octo, Jany and Orjan completed the quintet and we set off for the karaoke studio that was to be our rehearsal room for the night. It was obvious from way before we played a note that this was going to go very well indeed. I mean, I'd never doubted it from the way Ludo and Orjan had played Uninvited Guest at the Convention but you just know when something is really going to click and this was one of those times. We decided to run through everything once and see what needed redoing, so my first sung words with Misplaced Neighbourhood were "I am the Assistant", er "Assassin" ;)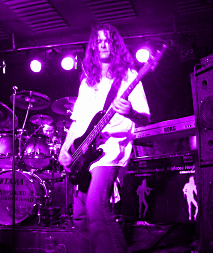 It's funny, live Marillion karaoke - like many people, I've sung every single song so many times along with the records, but I have the advantage over most of several hundred gigs, which somewhat lessens the "rabbit in the headlights" effect when I have to do it without a prompt; in total, including the various bits of Misplaced Childhood, there was probably almost an hour of music that I'd never sung live but, when everyone knows their own parts well, it just becomes a complete pleasure and you can really let rip. Mind you, in such a confined space this can have unintended consequences, such as scaring the hell out of a guitarist you only met an hour ago, when you finally get the chance to rip into a song you've wanted to sing live for 22 years!!
Things went, well, brilliantly :) I remember we had to start one song twice but I don't even remember which. Octo, Jany and Orjan then drove down to our accommodation in Holmsbu for the night, while Ludo and I went back to his place, where I gratefully collapsed into the sofabed in the spare room for my best night's sleep of the entire week.
The lads certainly know how to promote their gigs and had sorted out a radio interview on Norway's top rock station which was a slightly surreal experience, where the MD of the radio station did the interview off pat, which I think he regretted when he realised he could have got a much better story if he'd actually asked me a couple of background questions before he hit the record button! No matter - I got most of the story out, he played He Knows You Know and I successfully defended the band from the accusation of their being "wannabees"! Then it was back down to Gamla where the others were busy setting up.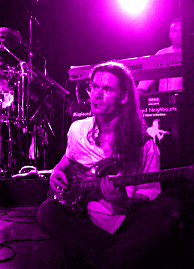 With Twisted, this time tends to be fairly hectic, as I usually end up helping with the PA or something and we're due on stage soon. Here I could do my best h impression - the weather was gorgeous, so I took an hour off while the others set up, wandering back to a cafe I'd spotted on a busy street corner and relaxing with a fruit juice and a mini pizza, watching the world go by. Then it was back to the soundcheck, running through Forgotten Sons and Blind Curve again and getting our first applause of the weekend (from the chef). The stage was compact but not cramped, sound engineer Emil was cool, as was the sound; things were looking good, so we headed off for a wander around the harbour area, where we soon found a well-appointed bar and regaled each other with tales of rock and Rocco and admired the rather nice arse of the Swedish waitress.
We didn't stay too long at the pre-show, in an English bar called The Belfry (even the barman was English and, like everyone else, couldn't quite believe I was over for just these gigs!), although we were there long enough for the second person in a month to think I was Steven Wilson; apparently I even talk like him; don't get me wrong, Deadwing is my favourite album for a decade but I'm not sure I'd want to hear his version of Slainte M'Hath ;)
When we arrived back at the venue it was already starting to fill up and I was going into the pre-gig shell I sometimes inhabit; I was really psyched for this; there was Marillion on the PA and I was getting more and more into the vocals, culminating in an intense rendition of Splintering Heart, just before we took the stage to applause, hiding behind the curtains as Jany, Ludo and Orjan sounded the opening bars of Assassing; stepping through, "watching you, watching me", the crowd were already alive and I knew this was going to be bloody good fun :)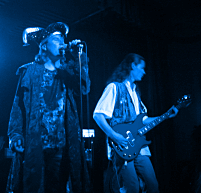 For the lead singer of a heavy rock band in front of an entirely new audience, Assassing is a pretty cool song to start a set with - plenty of aggression and venom, coupled with self-asserting lyrics and a great beat for the audience - and the words were coming back at me from what seemed like the entire room :) Not too much time to think about that though as He Knows You Know was next but went well. It turned out Jany was having keyboard problems but these were quickly fixed and Script was a pleasure to sing, as ever, pulling back from the mic a little to get the full effect of the accompaniment from out front (something I did regularly throughout the night - although I don't stop singing as often as, say, h does, 'cos I don't get the opportunity to sing them that often!).
One of the bigger self-criticisms of the night would be that I didn't pin the notes as well as usual in the middle of Cinderella Search, which we played a tad too slow to be perfect, but it's such a marvellous song, particularly the guitar/vocal twinning of the end section, that it couldn't spoil the enjoyment; Pseudo-Silk Kimono was difficult, as I couldn't hear Jany, but I really enjoyed singing Kayleigh and Lavender in a way I probably hadn't for twenty years, then turned it up a notch for Blue Angel and Heart of Lothian into, er, the end of Fugazi!! Are these guys nuts?! I think my comment to the audience after eventually completing side one of Misplaced was that "It fucking works though, doesn't it?!" :)
Although I prefer Hotel Hobbies included, Warm Wet Circles is a great song to sing, particularly in the way the delivery contrasts with At That Time of the Night, a far more aggressive track (and equally enjoyable to perform as its predecessor, I should point out), never forgetting the sublime "Wedding Ring" bridge section which held me as entranced as ever - this section has reduced me to tears in the past and I was close again; I love singing the high end of At That Time of the Night too. The audience had started off pretty nuts but by now they were verging on the insane - and the best was still to come, after hurdling one small obstacle...
...how do you manage to start playing some of Misplaced Childhood Side Two at the bar before "Last night you said I was cold"? Well, that's where the Cunning Plan comes in: you see, what you do is the singer does a very short spiel about playing in different bands and living in different countries and then starts jamming, "A lifestyle with no simplicity...", Octo picks up the 7/4 rhythm, I bookend the two verses and the band crash in right on cue :) I had shivers down my spine just writing the first line above; I was shaking when I sang it! Oh, I've forgotten the Web Scandinavia - how could I?? They'd told the band if they ever played Blind Curve they'd, how can I put this, be up the front with their dicks out!! Apparently one bar is just long enough to say, "Web Scandinavia, it's masturbation time" ;) I should mention that, until Brave came out, Misplaced Childhood was my all-time favourite album (by anyone), so I was rather enjoying myself; I think I probably sing things like Threshold slightly more aggressively than Fish does - I really launch into them with his notes but more of my voice, maybe; I know it's bloody good fun! The audience loved it, and a couple of the Web Scandinavia guys came up the front, undid their belts and threw them onstage :))
With Skyline Drifters we do more h material (about equal with Fish era and Fish solo, Tony Turrell being the keyboard player) but, if you're going to reduce the amount I can sing of his stuff, and I've already sung my heart out to Splintering Heart, then let me sing Runaway. The audience took their cue again with Slainte M'Hath, a marvellously rousing song, and really came into their element with Sugar Mice, winding them up nicely for the second surprise, the setlist closer.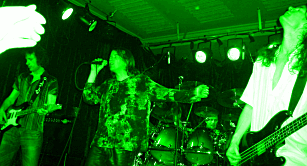 I got to sing Forgotten Sons five times over the weekend, every one as intense as the last, as every time I've sung it for 22 years has been; it's from "From the dole queue to the regiment" that the emotion really kicks in and I'm carried far away from everything else and plugged straight into the music (although I should say that the "And so as I patrol..." section, sung tight with Orjan's guitar, reached a whole new level for me). You really could have killed me when we finished that song in Oslo, with the manic audience's applause and shouts ringing in my ears, and I'd have died a very happy man :) It is a privilege and an honour to be allowed to sing the songs that have so closely soundtracked my life for so long; to know that a new crowd have enjoyed every moment of it makes it even more special.
I don't think there was really much doubt we were going to get an encore, although I'm still not clear whether Ludo actually had time to replace the A string he'd broken in Forgotten Sons. I've never sung Garden Party live before and it's a scream - although not as loud as the ones from the audience in the appropriate places :) But, I tell you what, for surprise enjoyment factor, Incommunicado takes some beating - sounds like it might be a vocalist's nightmare but it flows exceptionally well; kudos for the lyrical lyrics, Onkel Fish! Then it was more cheers, waves and handshakes and back behind the curtain again to debate whether they'd get some more - I was physically and emotionally shattered but it would have taken a lot more than that to stop me there :D
I think I slightly bemused the audience at this point with my minority opinions on smoking - mental note: must remember not to quote t-shirts from obscure IT-related websites on stage (http://www.cashncarrion.co.uk and look for Rockall Times, if you're interested) - but I can sing Hooks In You in my sleep (and in Bristol pubs where you can't see your fretboard for the fake smoke) so when you're wide awake (even though it was half past one by this point!) it generally goes pretty well :) We finished with a not too extended Market Square Heroes, took our bows, I shook the hand of everyone in the front couple of rows (the nutters had been stroking my boots whenever I put them on the monitors, after all!) and slowly made my way to collapse in a chair in the makeshift dressing room.
We adjourned outside for a while with Andreas, who never did get to tell me his criticisms of the gig, even though he had plenty of opportunity! Then it was back to chat to a few of the audience, all of whom were very generous with their warmth and enthusiasm. It was also the first chance to catch up with Mark Wilkinson, a charming chap who I'd sincerely thanked from the stage for being very supportive of both Skyline Drifters and Misplaced Neighbourhood, and his family. I think it was half three by the time the van was loaded and we drove off for some much needed munchies and then took the long and very winding road to Holsmbu, where I found out the acoustic show was scheduled for one o'clock - yikes!! Needless to say, even *I* didn't stay up too long.
With no chance of warming up properly in an hour, some barebones run-throughs worked okay and started to loosen me up a bit. I have to say the result was, whilst being one of the more bizarre gigging experiences I've had, actually rather enjoyable, although I confess I don't entirely remember the setlist - After Me was in there, a great song, Kayleigh (and Lavender, I think), Sugar Mice (very touched by Mark's evident enjoyment of this) and the impromptu swing version of Market Square Heroes, which my brain had, for some inexplicable reason, completely and utterly wiped from my mind until I sat to write this. No, really, it was actually the highlight of a not too shabby show, even disregarding the almost non-existent preparation! I also remember now a quite poignant Wish You Were Here.
Then it was all back to the chalet to watch Norwegian Idol, a brief kip and off to set up for Morten's party in one of those stripey-coloured round marquees, where we proceeded to do it all again, playing technically probably better than we had the night before but narrowly escaping disaster when Octo caught a falling lighting rig just as it was about to destroy his kit! It was a very different sort of gig to that at Gamla but incredibly enjoyable too and I was very sad when it had to end.
Heaven only knows how little sleep I had that night - we had a bit of a party back at our chalet and I got to see some of the video of the Oslo gig but I needed to get a taxi to the airport at six in the morning - so when I boarded the plane back to Holland I decided to pretend I thought it was easyJet and nick a window seat where I could doze off, thinking of the wonderful weekend I'd had with new friends and a new audience in a new country. Many thanks to all of you for a marvellous adventure - hope to see you all again some time!
Oslo Setlist:

Assassing
He Knows You Know
Script
Cinderella Search
Misplaced Part 1 / Fugazi Playout
WWC / TTotN
Blind Curve
Runaway
Slainte M'Hath
Sugar Mice
Forgotten Sons
--
Garden Party
Incommunicado
--
Hooks In You
Market Square Heroes