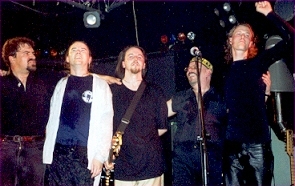 The band that has developed into Skyline Drifters began in a scout hut in Nottingham in 1998, with lightning rehearsals, for a charity party organised by a 40-strong group of fans who had clubbed together to pay Mark Wilkinson to create a bespoke piece of artwork, as a 40th birthday present for Fish. This first outing consisted of Rich Harding on vocals, Tony Makos and Richard 'Tricky' Reeves on guitar (with backing vocals on some tracks provided by Lucy Jordache (then still at EMI) and Vicki Harding (no relation) of the Web UK). The short setlist included Waiting To Happen, After Me, Sugar Mice and Kayleigh, to which Rich forgot the words!
Six years on and Skyline Drifters have grown and, despite coming from disparate parts of the UK, developed into a tight-knit unit with a repertoire of some five hours worth of material. Ade Holmes joined on drums for a repeat charity bash in '99 (with Tony Makos switching to bass duties), followed by Tony Turrell's arrival on keyboards in 2000. The current lineup was completed in 2001, with Invisible Touch's Dave Woodward replacing Tricky on guitar for the Garden Party, at Stourbridge Rock Cafe. This was the first time we'd played a full, two-hour-plus set; it was also the first time we'd had a practice with all of the band present!
Since then we have played a handful of public gigs and several private ones, expanding our repertoire both in regards to Fish and Marillion material and, when playing gigs to more general audiences, also including songs from a selection of a couple of dozen other covers. We are often asked if we could play more often but this is a little difficult: I live in Soesterberg (near Utrecht), also spending a considerable amount of time in Bristol; Ade lives in Stourbridge (but is currently contracting in Geneva); Tony T, when he isn't on tour, is in Ipswich, whilst Dave resides in Sheffield and Tony M in Edinburgh!
No matter! All of the band are experienced musicians, involved in various other musical projects, and we greatly enjoy the times we get to play together. We are all Marillion and Fish fans and we treat the material with respect, whilst not being afraid to be ourselves. From the reviews we've had, the audiences seem to like it too!
Some of the individual biogs are still *massively* out of date, although Dave, Ade and Rich have now updated theirs!