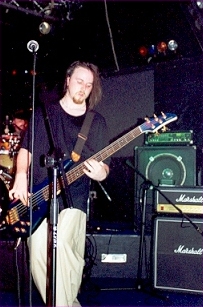 Tony Makos - Bass Guitar & Backing Vocals
| | |
| --- | --- |
| First Band Seen Live: | Transvision Vamp - Glasgow 1989 |
| Last Band Seen Live: | 2 Many DJs - Edinburgh 2004 |
| First Record Bought: | Harry Enfield - Doin' Up The House (single) |
| Last Record Bought: | Slipknot - Vol 3. The Subliminal Verses |
| Last Book Read: | Natsuo Kirino - Out |
| Last Film Watched: | Saw |
| Desert Island Luxury: | The Internet and a copy of "The Sims 2" |
| Favourite 3 Bands (All Time): | Pink Floyd, Primus, R.E.M |
| Favourite 3 Bands (Currently): | Slipknot, Cake, David Bowie |
| Favourite Marillion Track: | Chelsea Monday |
| Favourite Fish Track: | Cliche |
| Biggest Musical Influences: | Les Claypool, Steve Harris, Pete Trewavas, Muzz Skillings, Rocco Prestia |
| Most Memorable Experience: | Sitting in silence with a monk in Thailand |
| Equipment: | Yamaha 5 string bass, fingers, ears |
Tony Makos is a bass player resident in Edinburgh. He hates writing biogs like these and intends to make reading his particularly painful.
Born in London, Tone has been playing bass since 1662 under the reign of the indolent Charles II, when it is understood a complicated argument involving a "bumme notte" and Tone's quiet support of the recently deceased Oliver Cromwell involved him leaving England just in time to see London ravaged by plague and some great fire thing-y that seemed to cause a lot of distress to a city that has a bloody great big river going through it. Honing his bass playing skills at the hands of Charles Edward Stuart (a master of the 6 string fretless), Tone forgot about Cromwell's fascination about fighting Scottish people and travelled with the "Young Pretender" from Italy to Scotland in 1745 where his musical accompaniment to the following year's exciting battle at Culloden was warmly received by all. On his subsequent escape from Scotland and the flourishing of the English flag worldwide thanks to George II, Tone lay low, first in Canada and then Senegal. Many quiet years gigging in small pubs and clubs followed (with a couple of notable festival appearances overseas) until his return to Scotland in 1875 in time to catch his mate Alex invent the telephone. Now able to regularly phone in his performances from the comfort of his own home, this became more and more frequent when together with his old university colleague John, he helped invent the television in 1926. Happy that his contributions to the world of telecommunications were complete and that episodes of Dad's Army would be shown worldwide for at least the next one hundred years, Tone moved to Edinburgh in 1930 just in time to compose a solemn 4 part harmonic bass solo for Arthur Conan Doyle's funeral and has lived there ever since. In Edinburgh, that is. Not at the funeral.
Over the years Tone has been quietly going about his business, watching Kings and Queens rise and fall, currencies come and go, armies win and lose, popular figures be born and die, and the Fender 5 string Jazz Bass come in and out of fashion as befits the whims of the season.
Many years later having played with a number of more "contemporary" outfits including God To Me, Novice, the Weird Beards and the conservatively named Anti Static Carbon Fibre Turntable Mat, he plays with The Boogaloo Investigators - a Glasgow based R'n'B outfit soon to release their first album and tour Europe in the Autumn.
Tony doesn't believe that there's such a thing as a drummer with an IQ of 156, and that Ade is a compulsive liar.